Online Math Solver App for Android
Equations, theorems, geometry, and formulas can also be a headache for everyone. But Math solver makes learning basic mathematics to complex mathematics in Android not only easier but also fun.
It provides you step by step guide to solve all the problems of math and understand complex questions.
Download Now:
Top Math Solver Android App
Here are some of the top android apps to solve mathematical problems.
Photomath
MalMath
Maths Formulas Free
MyScript Calculator
Mathway 
Mathematics
Math Tricks
Scientific Calculator
Graphing Calculator by Mathlab
These apps will not only prove useful for those who are not ready to use their extraordinary brainpower to solve math problems but will also be useful for those who are ready to learn.
These apps are not only for students, but it will prove to be invaluable for all parents who have to take homework of their children after coming home from their duties.
 Photomath
As its name suggests, Photomath is a free android Math solver app. It can solve the equation through your smartphone cameras. This android app is not just a cheat sheet for kids, but it also provides step-by-step guidance on how to solve each problem.
This guide can be helpful for those students who do not have access to education and have to struggle to solve the problem of maths. Parents can also find it useful when they are teaching maths to their children.
PhotoMath currently supports arithmetic expressions, fractions and decimal, power and root, and simple linear equations. But it does not currently support handwritten expressions. Therefore, in this, you should scan only the printed equation on the Math Book or Workbook.
To use this android app, just hold the phone above the equation. You can dag to adjust the size and shape of the frame. Then its result will look red on the screen. You can see how this problem is solved by tapping the step button.
Download from Google Play: Photomath
MalMath
MalMath is one of the best Math solver apps. This android app gives you the solution to all the difficult questions which are related to derivatives, limits, algebra, and others.
With this android app, your math score will improve quickly and you will be able to understand the complex expansion of your questions and graphs. This app can also be useful for teachers to make tests of various maths.
With this application, you can easily use this to solve all the problems of maths easily. It comes with a very clean and easy interface to understand and you will not have any problem understanding how this app works.
In simple words, its interface is inspired by the standard calculator for Android, and if you are familiar with the scientific calculator, it will be easy for you to use it. Simply put, type an equation in this app, and this app will solve it.
Download from Google Play: MalMath
Maths Formulas Free
This android app has all the basic formulas of mathematics. These are very convenient for high school or university students and engineers to see any easy or complicated formula.
This Math solver app has a wide range of formulas, including Geometry, Algebra, Difference, Integration, Matrix, and Statistics. Along with this, there are some math tricks, which can simplify the calculations and there are ways to remember the mathematical process.
This application has many tools to calculate the geometric shape and find the root of the equation. Users can share any formula with their friends via email, message, or Facebook.
This app has a unit conversion table, math tricks, and many tools options. To access this information, you just have to tap on its subject.
Download from Google: Maths Formulas Free
MyScript Calculator
MyScript Calculator has amazing handwriting recognition so that you can write expressions of maths on your mobile screen and this app resolves them instantly. These are like writing on paper, but this android app also gives you the right answer.
This Math solver app is perfect for all students and users who want to do click calculations. The MyScript Calculator converts hand return numbers and symbols into clear notifications and immediately resolves this math expression.
In addition to adding, subtracting, multiplying, and dividing it, you can solve the trigonometric function by writing degrees of sin, cos, tan, and angle in it. This app surprisingly supports complex expressions, you can add exponents to it, draw a radical symbol for the square root, draw lines to divide by another number.
Download from Google Play: MyScript Calculator
 Mathway
Those who have used any software and websites to solve maths in the past will be familiar names with the name Mathway. This service is meant to solve problems with quick maths, but now it is also available on Android. This free math solver app provides you with all the tools so that you can solve any mathematical equation, no matter how complex.
In this app, you can easily enter manual express and the answer will be found. This app helps you to do your math homework. In addition, this android app not only solves your math questions but also teaches how to solve it correctly. All you have to do is add the equation to it and tap on the enter button.
Download from Google: Mathway 
Mathematics
As shown by name, this Math solver app will eliminate your fear of maths. In this, you can solve equations like linear, quadratic, cubic, transpose, formulas with variables, sums, products, and sequences. In addition, it can calculate tangent, asymptote, interception. Not only this, but it also helps you to create complex 3D graphs.
Download from Google Play: Mathematics
Math Tricks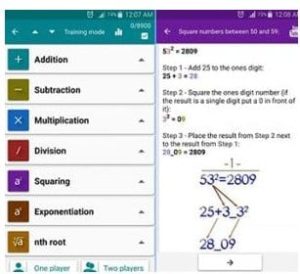 This android app is designed for those who want to learn interesting mathematics trips to speed up calculus. These tricks will help in solving Mathematical Problems and you can solve Mathematical Problems much faster than always.
When you learn these mathematics tricks by using this math solver app, you can show your skills to your friends and prove that you are now talented in mathematics. Now you can use this skill at stores, schools, colleges, and your work.
Download from Google Play: Math Tricks
Scientific Calculator
For Android users, this is probably the best alternative to the traditional calculator. This math solver app contains trigonometry, logarithms, exponential functions. Along with this, you can see the history of the equation, which shows you how to reach the result.
In addition, this android app has different modes for equation syntax highlighting, bracket highlighting, and scientific and engineering calculations. Due to all these features, it is a great choice and it is also ad-free.
Download from Google Play: Scientific Calculator
Graphing Calculator by Mathlab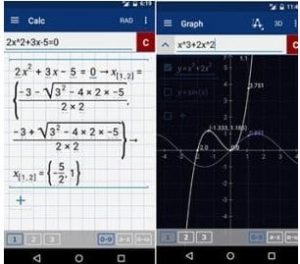 If you go to a graphical calculator in the market, then you will have to spend several thousand, but there will be many such android apps in the Play Store which have all the same functions. Out of these Mathlab's Graphing Calculator is the best and it works really well.
Graphing Calculator integrates graphical calculator with algebra and is an essential mathematical tool for any school, college, or graduate student.
This Math solver app has two strengths. First of all, it acts as a good scientific calculator, but, more than that, it displays all the steps of calculus. In this, students can see and learn how calculations are being made and how the final answers are being received.
Second, its graphics ability which is absolutely amazing! It not only displays graphs beautifully, but it automatically generates x and y-values ​​and also displays them.
Download from Google Play: Graphing Calculator by Mathlab
Last word:
These are some of the math solver apps that can solve mathematical problems. Now you have all the tools & android apps to do maths learning and calculations. But if you are a really good student and you need some help to solve your mathematical problems, then on this list you will get all the solutions of maths by installing any math solver app.